Guided tour to ALBA Synchrotron
What is it?
THE SYNCHROTRON ALBA
ALBA is the only source of synchrotron light that exists in the Spanish state It is a complex of electron accelerators that allows to analyse the atomic structure of matter as well as its properties.
In operation since 2011, it currently has nine lines of experimentation that investigate applications in the life sciences, medicine, materials science, environmental sciences, physics or chemistry.
This unique scientific infrastructure is within the reach of the scientific community as well as the business community, with the capacity to serve more than a thousand researchers every year.
Within the framework of Sternalia's scientific outreach activities, a collaboration with the ALBA Synchrotron has been initiated, located in the municipality of Cerdanyola del Vallès (Barcelona).
The ALBA Synchrotron opens its doors to the general public to visit its facilities. Guided tours of approximately one hour and 15 minutes are free.
Visits allow visitors to stroll through the experimental site and learn about the different lines of light and equipment of the synchrotron in areas such as biology, material science, physics or the environment, among others.
They are open to any type of audience although it is recommended for young people over 14 years. Minors must be accompanied by an adult. Activity not advised in cases of pregnant women and people with pacemakers.
The visits are carried out from Monday to Friday and on days in which the ALBA Synchrotron is not in operation. For this reason, neither the academic year nor other calendars that may use cultural or scientific institutions for their guided tours are followed. Due to the high demand to visit the facilities and the few possible days to visit it, the requests will enter a waiting list until the possibility of arranging the visit.
VISITS
To be able to visit the Sincrotró, you just have to enter the following link and follow the instructions marked.
Where is it?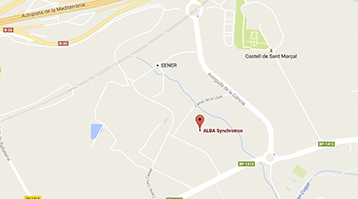 ALBA Synchrotron
Street de la Llum, 2-26, 08290 Cerdanyola del Vallès, Barcelona
Latitude: 41.486708 | Longitude: 2.109983
How to get there